Sir David Attenborough Meets Prince William And Family
Copyright: Duke and Duchess of Cambridge. NEWS EDITORIAL USE ONLY. NO COMMERCIAL USE. NO MERCHANDISING, ADVERTISING, SOUVENIRS, MEMORABILIA or COLOURABLY SIMILAR. NOT FOR USE AFTER 31 DECEMBER, 2020, WITHOUT PRIOR PERMISSION FROM KENSINGTON PALACE. This photograph is provided to you strictly on condition that you will make no charge for the supply, release or publication of it and that these conditions and restrictions will apply (and that you will pass these on) to any organisation to whom you supply it. There shall be no commercial use whatsoever of the photographs (including by way of example only) any use in merchandising, advertising, or any other non-news editorial use. The photographs must not be digitally enhanced, manipulated or modified in any manner or form and must include all the individuals in the photograph when published. All other requests for use should be directed to the Press Office at Kensington Palace in writing. MANDATORY CREDIT: Kensington Palace. LONDON, ENGLAND - SEPTEMBER 24: In this handout release on September 26, 2020 by Kensington Palace, Prince William, Duke of Cambridge, Catherine, Duchess of Cambridge, Prince George of Cambridge (seated), Princess Charlotte of Cambridge and Prince Louis of Cambridge meet with Sir David Attenborough in the gardens of Kensington Palace, after The Duke and Sir David attended an outdoor screening of Sir David's upcoming feature film, on September 24, 2020 in London, England. (Photo by Kensington Palace via Getty Images) NOTE TO EDITORS: This handout photo may only be used in for editorial reporting purposes for the contemporaneous illustration of events, things or the people in the image or facts mentioned in the caption. Reuse of the picture may require further permission from the copyright holder.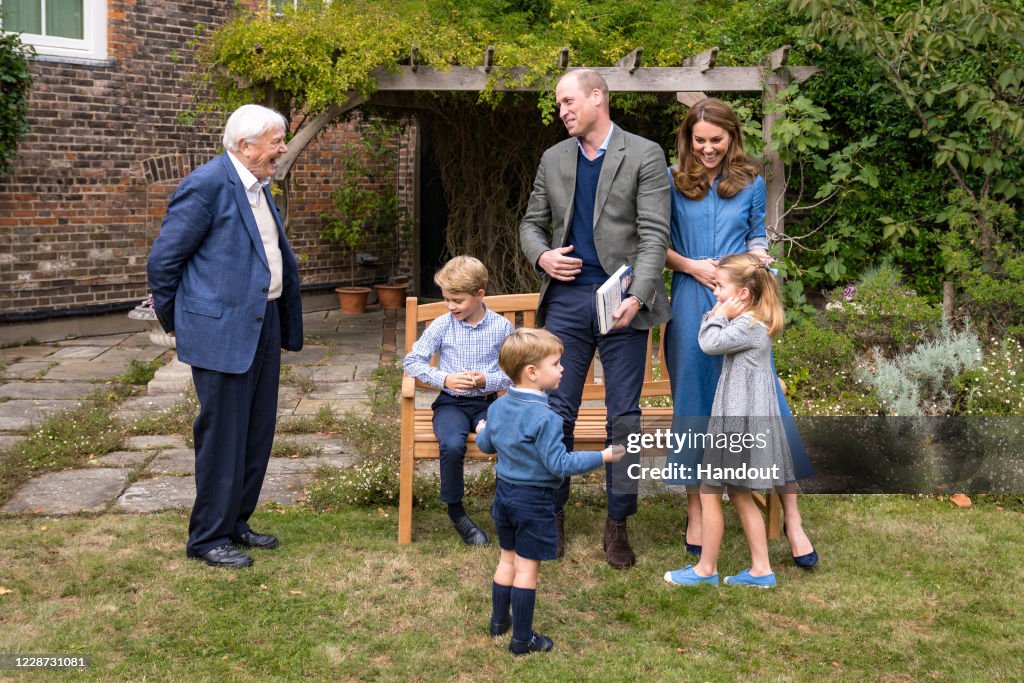 GEGEVENS
Beperkingen:
Neem voor gebruik voor alle commerciële of promotiedoeleinden contact op met uw lokale kantoor.
(NO SALES) Getty Images provides access to this publicly distributed image for editorial purposes and is not the copyright owner. Additional permissions may be required and are the sole responsibility of the end user.
Collectie:
Getty Images Publicity
Gemaakt op:
26 september 2020
Naam materiaal:
familyphotograph_aa
Max. bestandsgrootte:
6050 x 4033 px (51,22 x 34,15 cm) - 300 dpi - 16 MB