U.S. President Donald Trump Visits South Korea
PANMUNJOM, SOUTH KOREA - JUNE 30 (SOUTH KOREA OUT): A handout photo provided by Dong-A Ilbo of North Korean leader Kim Jong Un and U.S. President Donald Trump inside the demilitarized zone (DMZ) separating the South and North Korea on June 30, 2019 in Panmunjom, South Korea. U.S. President Donald Trump and North Korean leader Kim Jong-un briefly met at the Korean demilitarized zone (DMZ) on Sunday, with an intention to revitalize stalled nuclear talks and demonstrate the friendship between both countries. The encounter was the third time Trump and Kim have gotten together in person as both leaders have said they are committed to the "complete denuclearization" of the Korean peninsula. (Handout photo by Dong-A Ilbo via Getty Images/Getty Images)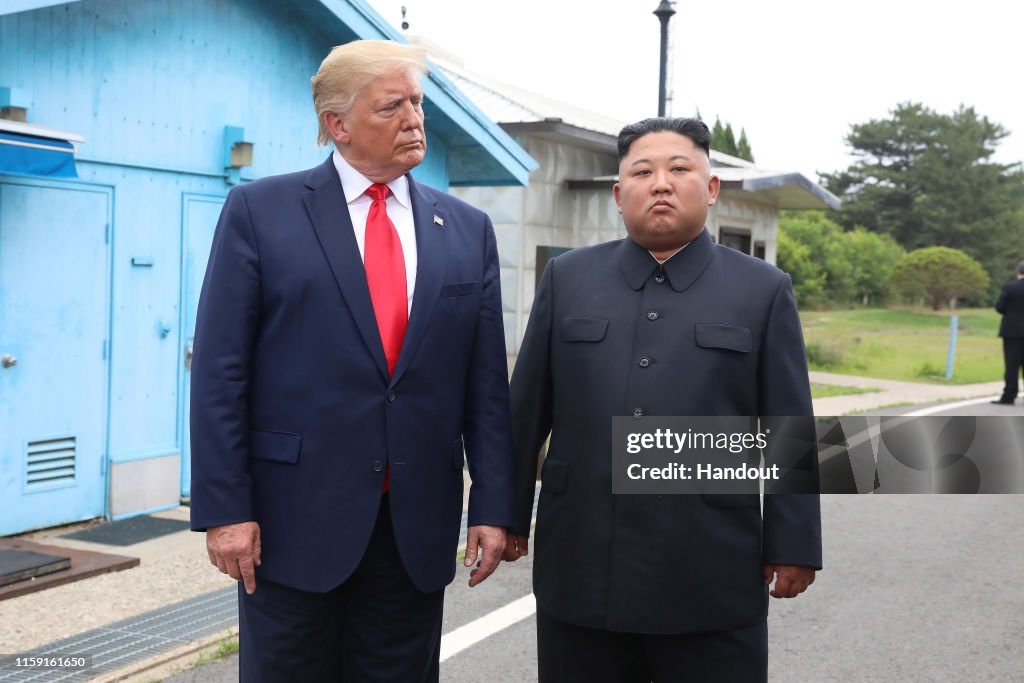 Hoe mag ik dit beeld gebruiken?
GEGEVENS
Beperkingen:
Neem voor gebruik voor alle commerciële of promotiedoeleinden contact op met uw lokale kantoor.
Getty Images provides access to this publicly distributed image for editorial purposes and is not the copyright owner. Additional permissions may be required and are the sole responsibility of the end user.
Collectie:
Getty Images News
Bron:
Getty Images AsiaPac
Naam materiaal:
0002_2019063055257641.jpg
Max. bestandsgrootte:
6327 x 4218 px (53,57 x 35,71 cm) - 300 dpi - 5 MB