St Pauls Cathedral, London, c 1943.
ENGLAND - DECEMBER 10: A Dufaycolor colour transparency taken by an unknown photographer in about 1943. St Paul's was an inspiration to the nation during the Second World War. When much of the surrounding area was destroyed during the Blitz it seemed miraculous that St. Paul's survived. However, it was not completely unscathed. A bomb demolished the High Altar, and the Crypt suffered damage as did many of the stained glass windows. The Dufaycolor process was introduced as cine film in 1932 and as rollfilm for still photography in 1935. Based on Frenchman Louis Dufay's Dioptichrome process of 1908, it was the last 'additive' colour process to be marketed and consisted of a very fine, regular screen made up of red, green and blue lines printed on a film base. (Photo by SSPL/Getty Images)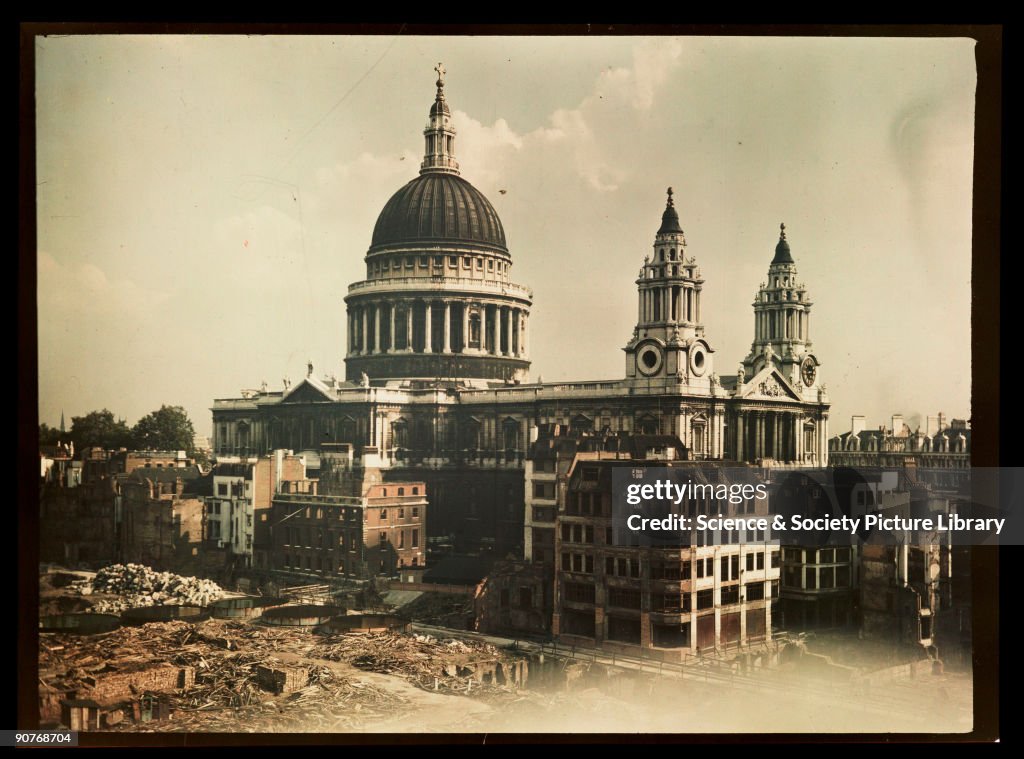 Hoe mag ik dit beeld gebruiken?
Let op: afbeeldingen die historische gebeurtenissen weergeven, kunnen thema's of beschrijvingen bevatten die niet overeenkomen met huidige denkbeelden. Ze moeten worden voorzien van historische context. Kom meer te weten.
GEGEVENS
Beperkingen:
Neem voor gebruik voor alle commerciële of promotiedoeleinden contact op met uw lokale kantoor.
Gemaakt op:
01 januari 1943
Max. bestandsgrootte:
3504 x 2597 px (29,67 x 21,99 cm) - 300 dpi - 2 MB