Girl with a parasol sitting on a bench, 1908.
ENGLAND - SEPTEMBER 03: An autochrome of her daughter sitting under a tree, taken by Etheldreda Janet Laing. Next to her, a basket overflows with ribbons and thread as she holds a length of fabric she may be embroidering. She carries a parasol to shade her face from the bright sunshine. In the summer of 1908 Laing took a series of autochrome portraits of her children in the garden of the family home, Bury Knowle. As a young woman Laing studied art in Cambridge and became an enthusiastic amateur photographer. The autochrome process was the first really practicable and commercially successful process for colour photography. Patented in 1904, it was invented by French film pioneer brothers Louis and Auguste Lumiere. Autochromes are transparent images on glass, similar to lantern slides. (Photo by SSPL/Getty Images)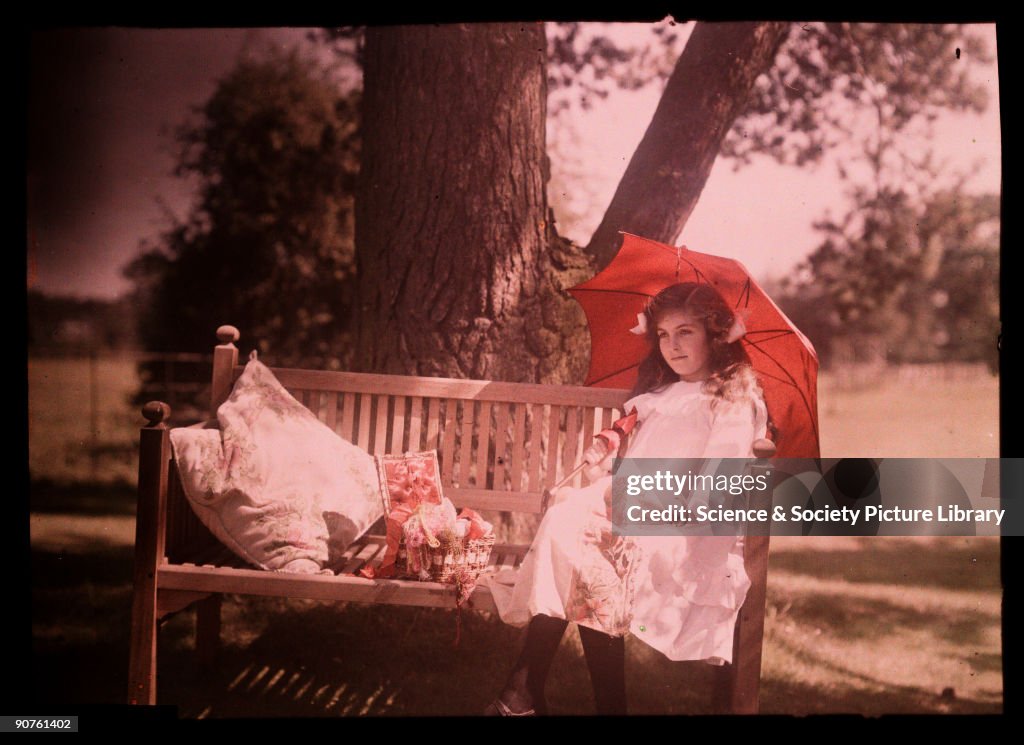 Hoe mag ik dit beeld gebruiken?
Let op: afbeeldingen die historische gebeurtenissen weergeven, kunnen thema's of beschrijvingen bevatten die niet overeenkomen met huidige denkbeelden. Ze moeten worden voorzien van historische context. Kom meer te weten.
GEGEVENS
Beperkingen:
Neem voor gebruik voor alle commerciële of promotiedoeleinden contact op met uw lokale kantoor.
Gemaakt op:
01 januari 1908
Max. bestandsgrootte:
3508 x 2551 px (29,70 x 21,60 cm) - 300 dpi - 3 MB